In 2009, with the establishment of e-r-s GmbH in Klötze, the "foundation" was laid for the e-r-s group, which since then has grown into an organization consisting of several companies All branches within this organization prosper independently on the market, according to their different structures and the corresponding state permits and certifications.
Each company of the e-r-s group guarantees short response times, professional knowledge and well-trained, highly motivated specialists. That applies to local and abroad construction sites. The headquarters is located at the Poppauer Straße in Klötze and has a size of 4 hectare.
In addition to the newly built and completely renovated warehouses, a production hall for the manufacture of prefabricated parts was built in 2010. Since then, it has been equipped with the latest technology. In 2011 and 2012, two kilns were built and equipped with the most modern combustion and control technology, each with a volume of 18 m³ and a temperature range of up to 1380 °C There are now three of these kilns. Our know-how and the high potential of the specialists enable us to handle all projects professionally. The e-r-s company is represented on the Europe-wide market with its branches in various countries such as the Netherlands, Poland, Austria, Romania, Hungary, Portugal and Switzerland.
Our specialists are constantly available for our clients in order to respond quickly and to deliver flexible and fully-customized solutions even if actions are needed to be taken in short time.
Our principle is: customer satisfaction!
Our specialists are in constant contact with our clients in order to find a fast, flexible and optimal solution, even if changes are necessary at short notice.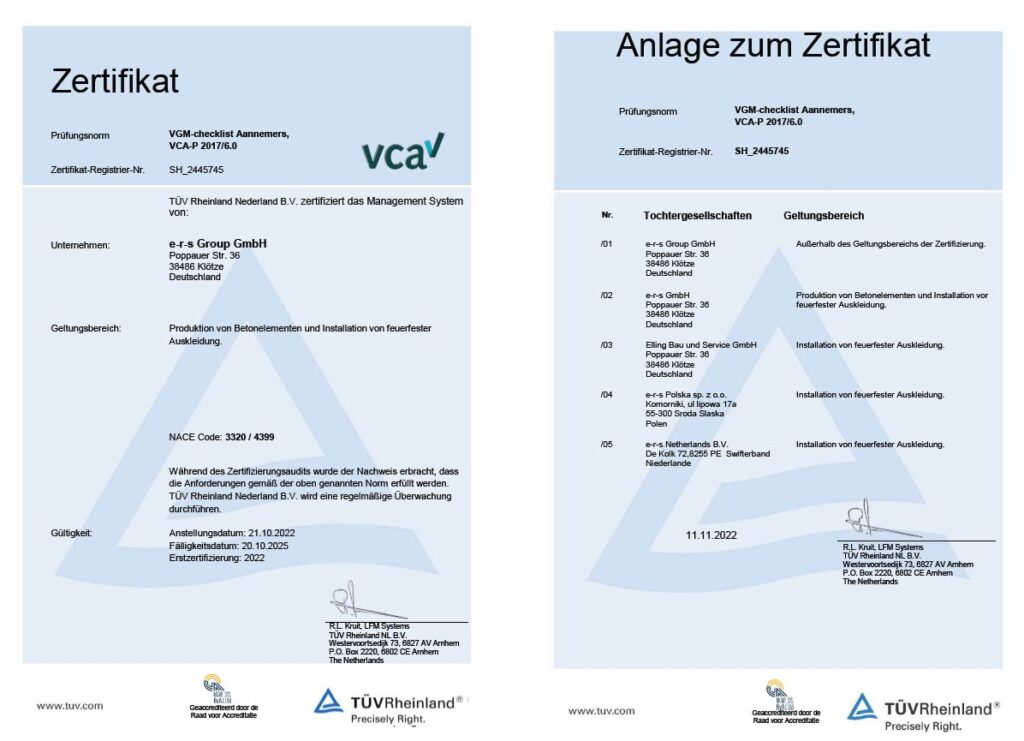 e-r-s GmbH
Impressions
With competence to success